Contact La Crosse Criminal Defense Lawyers
Serving La Crosse and Western Wisconsin
If you have been charged with a crime --- or believe you may be charged with a crime -- in La Crosse County, Monroe County, Vernon County, or surrounding western Wisconsin counties, call an experienced criminal defense attorney. La Crosse attorneys Keith Belzer, Todd Schroeder, and Jennifer Lough can meet with you and help you start to plan your best stategy to defend yourself.
Phone
Phone is the best way to contact the attorneys. Please call us for a free telephone consultation to discuss your criminal matter:
La Crosse 608-784-8055
Email
Email us at Mary@LaxDefenders.com
The information you obtain at this site is not, nor is it intended to be, legal advice. You should consult an attorney for advice regarding your individual situation. We invite you to contact us and welcome your calls, letters and electronic mail. Contacting us does not create an attorney-client relationship. Please do not send any confidential information to us until such time as an attorney-client relationship has been established.
Office Location
The law office of Belzer, Schroeder & Lough is located in downtown La Crosse, Wisconsin.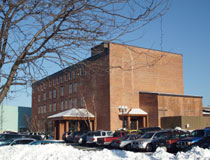 La Crosse, Wisconsin
The office is in a historic brick building on 2nd Street, between Pine Street and Vine Street
- one block west of the La Crosse County Courthouse
- about 10 minutes south of Interstate 90 (exit 3, Rte 53 South)
300 N. Second St., Suite 200
LaCrosse, WI 54601-2001
See a map and directions »